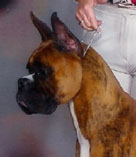 This dashing young boy makes up for his lack of white markings with attitude, presence and STYLE. He is owned and loved by Shelly McLeod, who will owner-handle him. Shelly understands how difficult it will be to show a boy that doesn't have a lot of white markings, to his Championship, but she is determined to do it! She has been taking him to handling classes and roadworking Playboy who is now 18 months old.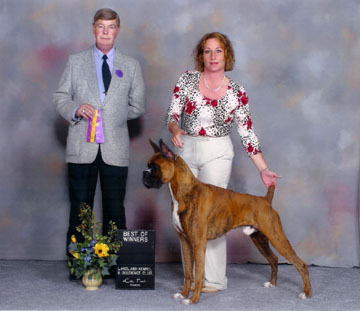 Playboy wins WD and BOW, under Leslie Rogers, in Cold Lake Alberta, July 2/04 handled by Shelly. He has earned his first 2 points!! Awesome job Shelly.

Pedigree Dock, Am. Ch. Ein Vons Dock of the Bay, to Eden Ch. Hi Times East of Eden. Eden has been SAS cleared, Holtered, Eyes, Thyroid and Penhipped (hips) tested. Dock was SAS cleared, Thyroid, OFA (hips)and Holter monitor tested. We are very excited about this young man. Watch for him in the conformation rings of Central Alberta.

Home