Ashley and Magic's Homepage
Hi, my name is Magic and this is a web page dedicated to me. My long name is Multi Group Placer/BPIS/BPISS Ch. Cordinators Sparks N' Cinders. Whew.... is that long. My mom, Ash, calls me "Babes" and "Princess Magic". I love my mom, we're a real team. In fact, my mom and I made it to the Alberta Junior Handling Finals for Senior Open. We did pretty well except that I decided to try and taste a poodle! The judges didn't find it that funny I guess..
On MY web page you will see pictures of me with my mom and my friends Gary Lee and Karen Hartley. I personally like the pictures where I'm alone. There are also pictures of my dam Ch. Kristan TT OFA and my sisters Emily and Tasha. Tasha also goes to dog shows with her mom. As soon as we get pictures of Diva, my other sister, I'll tell my mom to put them on. She built this web page and the Hi Times webpage for Joan. Joan is Ash's mom. She's a pretty nice person, 'cuz she feeds me when Ash forgets too.
My favorite game is Hide and Seek. My favorite thing to do is sleep in Ashley's bed. That's Joan's least favorite thing. I am going to be 7 on November 15 2000. Ash is planning a surprise party for me. (I'm not supposed to know that though)....hehehe.
Me at a dog show in the States getting my third major.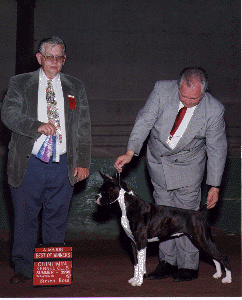 Ash and I first met 4 1/2 years ago when she got me for her birthday. She still says I'm the best present she has ever recieved. I personally like her fish tank. I could stare at it for hours. I like the big ones the best.
My Mom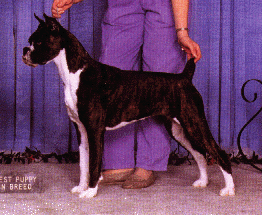 Well, thats it for my web page at the moment (Ash is too busy with school to make it better, or so she says anyways) so keep on coming back to see how it changes.
Bye
Love Magic
Back