From the day she was born "Wicked" was always catching our attention. She had a beautiful head, gorgeous topline and flawless movement. She was very beautiful but...very, very, very "Wicked". Wicked is a Best In Show and Group winning American/Canadian Champion who has also been fully health tested. Wicked is now being shown by her friend Shannon Scheer. Wicked has just won BOB at the Saskatoon Working Herding Specialty (May 5/02)!!
IN THE BEGINNING: At the age of 1 year she won 2 BOW and 2 BOS over "specials" to complete her Canadian Championship in grand style. The NEXT DAY (her first day as a champion) Wicked went on to win her first BEST OF BREED and make the cut in the group. Wicked has won, in total, 1 BIS, 3 Gr.1, 5 Gr.2, 3 Gr. 3, 1 Gr.4 , 22 BOB (1 at a specialty)AND 2 BOS in Specialty wins. In the States, Wicked was expertly shown by Wendy and Jimmy Bettis and finished her American championship on October 7, 2001, becoming the second "DUAL", Am./Cdn. champion, for her dam.
Wicked's health testing includes: Pennhip Score (Right Hip-.30 Left Hip .35 An excellent score in the 90th percentile!! Doppler tested Heart clearance for SAS, Heart holter monitored (24hrs) at 2 1/2 years of age 0% PVCs, Thyroid levels(at 4 yrs) NORMAL, and her eyes, "normal".
Wicked is a daughter of Am./Cdn. Ch. Berlane's Causin' An Uproar A/C SOM CDX "Sabre" and "Mocha" Ch. Hi Times Pagan Lady Mephisto. "Mocha" is an Am/Cdn./Jap./Int'l Ch. Mephisto's Guns and Roses daughter out of his half sister .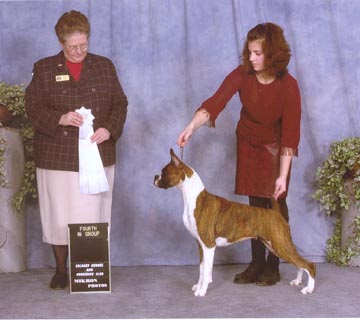 "Wicked" winning a Grp 4 placement under respected judge ,Ms.Virginia Lynne, at 2 years of age.

***FLASH*** Wicked, under the expert hands of Wendy & Jim Bettis, completed her American Championship! Some of her US. wins - WF & BOS under Arley Hussin at the Chief Solano Kennel Club on April 21,2001 and the next day, WF,BOS & BOW for her first MAJOR, under Breeder judge, Joan Frailey! She came home for a couple of months and then her first weekend back out, at the Olympic Kennel Club, under Ms. Walton, went WF,BOW and BOS for her second major!!! This beautiful girl joined her brother, (Am/Cdn Ch HiTimes North of Naughty) in becoming a "dual" Champion on October 7, 2001.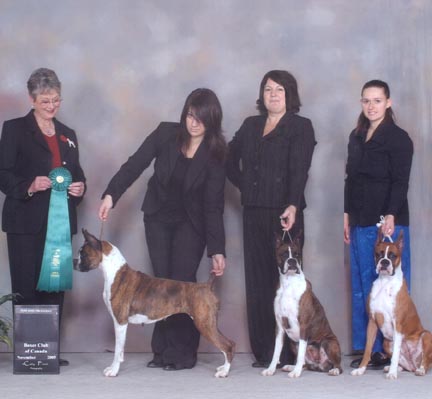 "Wicked" with her 2 Champion daughters, Harlot and Whoopi, winning DAM & PROGENY at the Boxer Club of Canada Specialty under respected judge ,Ms.Judy Horton (Intrends Boxers-Australia). Her daughter, Harlot won BEST OF OPPOSITE SEX IN SPECIALTY that same day!

Below is a table of Wicked's wins.
| | | | |
| --- | --- | --- | --- |
| DATE | SHOW | JUDGE | WIN |
| Mar 10/00 | Calgary Kennel & Obed. Club | Mr. Alvin Krause | SP/BOW/BPIB 3pts |
| June 2/00 | NACA | Wendy Maisey | BOW/BOS 3pts |
| June 3/00 | NACA | George Heitzman | BOW/BOS 5pts (NEW CHAMPION) |
| June 4/00 | NACA | Barbara Dempsey Alderman | BOB |
| Mar 3/01 | Calgary Kennel & Obed. Club | Virginia Lyne | Grp 4 |
| July 7/01 | Lethbridge and District KC | Mr. Mel Saranchuk | BOB |
| Oct 7/01 | California, USA | | (AMERICAN CHAMPION) |
| Mar 16/02 | Wheat City KC | Judith Shurb | BOB |
| Mar 17/02 | Wheat City KC | Lawrence Anonychuk/Richard Fehler | BOB/Grp 2 |
| Mar 29/02 | Northwinds Dog Club | Honey Glendinning | Grp 1 |
| Mar 30/02 | Northwinds Dog Club | Michael Woods | BOB |
| Mar 31/02 | Northwinds Dog Club | Mr.R. Lopaschuk | Grp 2 |
| May 3/02 | Hub City KC | Leslie Rogers | BOB |
| May 4/02 | Hub City KC | Thomas Alexander | BOB |
| May 5/02 | Hub City KC | Kathy Stewart | BOB |
| May 5/02 | Saskatoon Working/Herding ASsoc | Ms.Mary White | BOB |
| May 24/02 | Fort Garry KC | Mr.Arne Berg | Grp 3 |
| June 7/02 | Regina Kennel & Obedience Club | Richard Lopaschuk | BEST IN SHOW |
| July 5/02 | Lethbridge District KC | Ms.Virginia Lyne | Grp3 |
| July 6/02 | Lethbridge District KC | Mr.R.Glendinning | BOB |
| July 7/02 | Lethbridge District KC | Ms.H. Glendinning | BOB |
| Aug 2/02 | Boxer Club of Canada Specialty | Mr.Butch MacDonald | BOSS |
| Aug 3/02 | Alberta Kennel Club | Mr.Guy Jeavons | BOB |
| Aug 4/02 | Western Canada Boxer Club | Mr.Jose Luis Garcia | BOSS |
| Aug 16/02 | West Kootenay KC | V. Lyne | Grp 2 |
| Aug 17/02 | West Kootenay KC | Bonnie E. Pelliccia | Grp 3 |
| Nov 1/02 | Red Deer & District KC | Rick Glendinning | Grp 2 |
| Nov 2/02 | Red Deer & District KC | Honey Glendinning | Grp 2 |
| Nov 17/02 | Ottawa Kennel Club | R.Glendinning | Grp 1 |
| Aug 3/03 | Alberta Kennel Club | Col. Joe Purkhiser | BOB |
| July10/04 | Evelyn Kenny Kennel & Obedience Club | Ms.Thora Brown | BOB |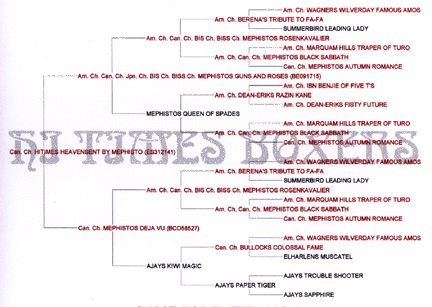 Wicked's pedigree - Click to Enlarge

For information on her brother "Trouble" visit his page.For more information on her sister "Eden" visit her page.

Home